About Roger Bushell Real Estate
Roger Bushell Real Estate
Roger Bushell Real Estate has serviced Goulburn and districts with specialist stock and station agency skills since 1985.
Roger Bushell Real Estate has an appreciation for the district which stems from the first introduction to the area. Roger Bushell Real Estate made it a mission to explore and get to know as much of the area as possible.
Roger Bushell Real Estate believes the secret to their success has been working with local graziers both on and off site and getting involved in numerous local communities which has enabled experience the area and lifestyles first hand. This, together with company satisfaction and commitment to the industry has given many people memorable experiences and success sale stories.
Continuing to service a loyal client base as a all round General Real Estate Business Specialist, Roger Bushell Real Estate brings together entrepreneurial skills and corporate dealings to offer commercial real estate solutions.
Emma Price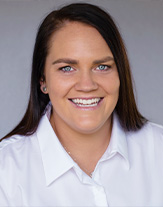 Emma grew up on a property in the local Bannister area and has strong family ties to the Crookwell and Goulburn area. She has an appreciation for the country living, but also understands older style dwellings as well as modern homes in Goulburn and the surrounding area.
Emma started with Roger Bushell Real Estate as the receptionist in 2012 and quickly became interested in the sales side of the business, then deciding to undertake the more advanced training courses. Now a licensed Real Estate, Stock & Station and Business Broking agent, she has decided to further expand her knowledge in the industry and is also currently studying a Bachelor of Property & Real Estate. Emma is a motivated, honest and eager agent ready to help Goulburn and the surrounding communities in the selling or purchasing of their residential homes and properties. Emma understands the importance of specialized marketing and the needs of home owners and investors.
Contact Emma today for your free appraisal on emma@rbrealestate.com.au or phone her on 0478 102 093.
Roger Bushell
Roger Bushell has successfully operated as a Licenced Real Estate Agent, Stock and Station Agent and Business Agent, with a focus in recent years on real estate. Roger can truly claim to know the area extremley well, with a constant thirst for knowing what's going on out there, possesses the most specialised knowledge within the Goulburn and Southern Tablelands area.
Roger has successful sale stories from Narooma, Braidwood to Gundaroo Crookwell, through Wingello to Boorowa. He has worked in every corner of the district (and with lots of properties in between). Having assisted in the transaction of hundreds of properties from 5 acres to 37,700 acres, and has been involved in every situation from the purchase of a weekender, the first family farm or bush retreat through to the disposal of large historical family rural holdings, international company investments and corporate land acquisitions. In all, Roger Bushell has been involved in a greater number of rural holding transactions than any other independent agent.
Contact Roger for your free appraisal today on rb@rbrealestate.com.au or phone him on 0428 483 667.